Agra's Darpan Printers eyes short-run jobs with Komori Enthrone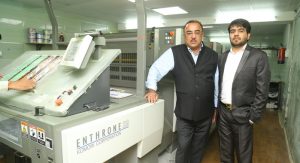 Agra-based Darpan Printers has installed a four-colour Komori Enthrone 429 20×29-inch sheetfed printing press. With this, the commercial printing facility now has three four-colour presses, including two four-colour Adast, beside the Komori.
Khushi Ram Dhanwani, the owner of Darpan Printers, said he always wanted to invest in a brand-new press but he was not confident if he could pull off the deal. "Then my son, Aaryan, joined the business and when he said that it was time we invested in a new printing press, I was now quite confident and was ready to go for it," said Dhanwani, adding that his lack of confidence in acquiring a new machine was nothing but the mindset. "It took time, but we finally did it," he said.According to Dhanwani, the best part of the Komori Enthrone is that the firm can run the machine without an operator, as the PCG software controls the flow of printing inks according to a job. "So we require only one person at delivery and one person at feeder," he said. Also, the cost was within the range of the company. These were the two factors that motivated Dhanwani to invest in the machine.Dhanwani said it took some time getting used to the machine, but now it is working smoothly, so much so that even the shopfloor operators cannot give an excuse that the machine is not running. As the Komori's speed is higher than the firm's existing machines, the company can now produce short-run jobs. "Most of our jobs range from 500 to 1,000 runs," said Dhanwani. A Xerox digital printing machine is used to print proofs and short-run prints.In round-the-clock operation, Darpan converts around 25 jobs per day. "The number of jobs is increasing and in the coming few months, we expect the number to rise to 45 jobs per day," Dhanwani said, adding, "The Komori was expensive but it is giving us more jobs."Established in 1992 as a DTP house, the firm was upgraded as Ujala Printing Press in 1995 and finally rechristened Darpan Printers in 2012. The core markets for Darpan include Jhansi, Etawah, Mainpuri, Kasganj, and parts of Madhya Pradesh, among others.Closer home, Agra is a dedicated market for shoe box manufacturing, as it is a leather manufacturing hub and also hub of publication of books and magazines. However, Darpan is not looking at these markets. "We are happy with commercial printing, especially short-run job," said Dhanwani.
Darpan is housed in a 10,000-sq/ft facility, employs 25 people in round-the-clock shifts and consume 4,000 CTP plates per day. "We have four CTP bureaus in the radius of one km, so we never felt the need to have an in-house facility," said Dhanwani, adding, "Our specialisation is printing and we do not want to engage in any allied activities, including starting a CTP bureau."
On round-the-clock operation, Dhanwani has an irrefutable logic, "Jab interest ka meter choubis ghante chalta hai toh humme bhi choubis ghante kaam karna parega (When interest rates are counted round-the-clock, we too need to work round-the-clock)."
For future, Dhanwani would like to add Komori with similar configurations, probably in the next 20 months.